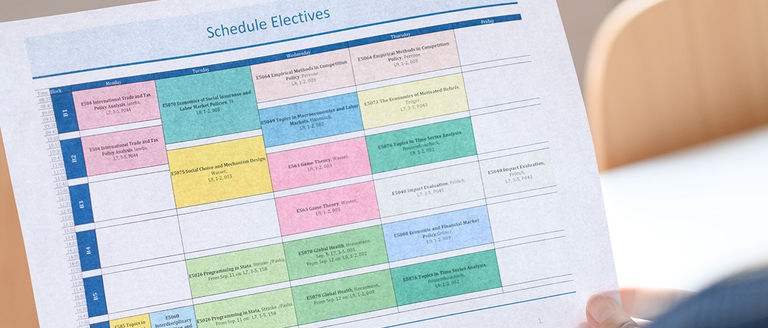 Module and Course Registration
Lectures:
Registration for lectures takes place in Portal2. Please navigate to My Portal² > My Degree Planner and register for the lectures you would like to attend. The registration period for lectures in spring 2019 begins on January 21 and ends on February 25, 2018. During this time you can register and deregister from any lecture on your own accord. A manual for course registrations can be found in Portal2 > User Manuals > For Students. Please note that elective modules offered by other departments may require a different registration procedure. For more information please check the Courses and Course Regulation section. Courses in the core module do not require registration.
---
Seminars:
To enroll in a seminarin spring 2019 please send your registration by emailto econgrad(at)uni-mannheim.de within the registration period, which begins on January 21 and ends on February 4, 2018. If the actual number of participants after the organizational meeting is too high, a "first-come, first-served" rule will be employed or the responsible teacher will select the students according to specific criteria.
---
Information for exchange students, MMM students and Business Mathematics students:
Please note that you can choose to study any of the elective modules available at the Department as long as you fulfill the prerequisites. Please contact the teacher of the module you are interested in directly for more information on the prerequisites and to discuss your eligibility. Courses in the core module are not open to exchange students or students from other programs.
---
Electives from other departments:
Information on the course offer from other departments can be found here.