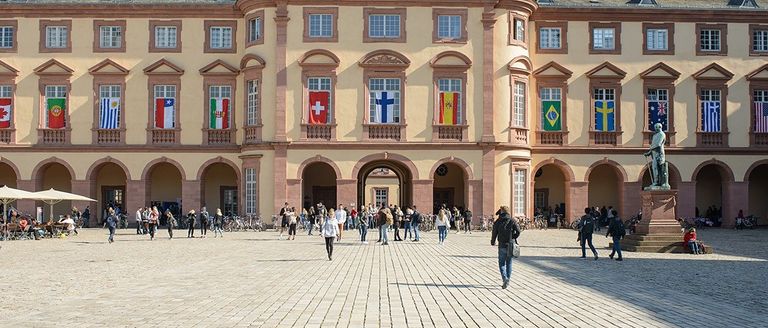 Welcome to Mannheim
Study in one of Europe's largest baroque palaces
Experience a unique study environment at the University of Mannheim. The campus is mainly located in a baroque palace, merely a few steps away from the city center and the intercity train station. Be part of our vibrant student life and enjoy high-class education at one of Europe's leading economic departments.
Mannheim is located in the very north of Baden-Württemberg, one of Germanys most southern states, close to Heidelberg and Frankfurt. For historical reasons the "city of squares" has got excellent connections to citys in and outside Germany, such as Amsterdam, Berlin, Cologne, Hamburg, Munich, Paris, and Zurich. Together with cities Heidelberg and Ludwigshafen, Mannheim is part of the Rhine-Neckar metropolitan region. About 2.4 million inhabitants, a great infrastructure, and several companies form one of the most attractive business hubs in Germany. Next to its industrial charm, Mannheim has many green areas along its two rivers. It also offers a great variety of shopping, nightlife, restaurants, museums, and cafés. Plus: the palatinate area, a well-known wine region ideal for hiking, is at arm's length.
You can find the dates of upcoming semesters in the academic calendar. There is also a Welcome Week for international students each semester with mandatory orientation sessions.
Orientation event: Wednesday, 29 August, 2018, 10:15, meeting point: S 031, L7 3-5
Campus tour: Monday, 03 September, 2018, 15:45, meeting point: Entrance L7 3-5
All information on accommodation, health insurance, German language courses and many other topics can be found on the myUniMA information portal, which is administered by the International Office. You will receive your myUniMA log-in details after you have been nominated by your home institution. If you have any questions regarding your stay in Mannheim, please check myUniMA first as the information it contains usually answers most questions.
In addition to the myUniMA information portal, there is also Portal². You can use Portal² to register for exams, to check your grades, and access ILIAS – the University's e-learning platform. You will receive your log-in during the enrollment process.
In order to find an accommodation, one option is the room-exchange dashboard, where other students advertise their apartments for rent. Provided information includes rooms' type, location, monthly price, amount of the collateral as well as a period, for which room is free. For more information on finding accommodation please have a look at myUniMA portal.
Contact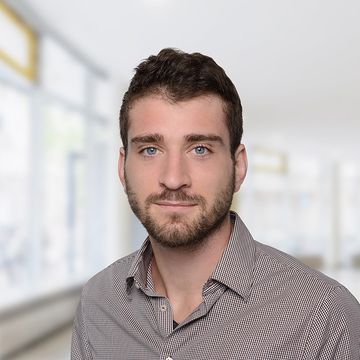 Sebastian Herdtweck
Program Manager and Exchange Coordinator
University of Mannheim
Department of Economics (GESS)
B 6, 30-32 – Room 250
68159 Mannheim