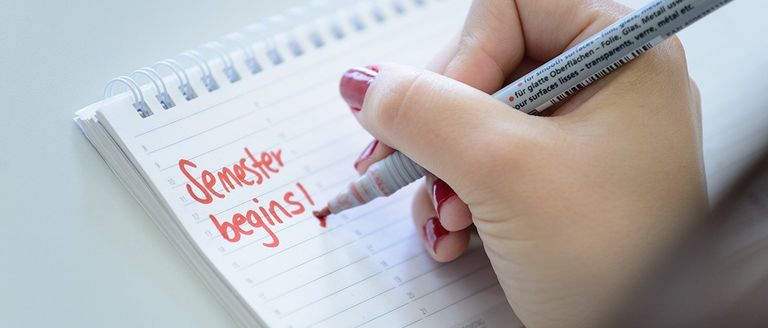 Courses and Lecture Periods
Lecture Periods
Economics Courses
On the following sites, you can find information on the courses available at our Department:
Modules available in the bachelor's program
Contact Ms. Christiane Cischinsky if you have any questions on the modules offered.
 
Modules available on the master's program
If you want to attend a module from our master's program, please contact Mr. Sebastian Herdtweck. These modules are only open to master's students. Please also note that only elective modules from the master's program may be selected. Exchange students cannot attend the core courses.

Course registration
Lectures:
The registration for undergraduate lectures in economics takes place via our student portal "Portal2". You will receive the access data during your enrollment at the University of Mannheim. The registration for the lectures offered in fall 2018 will be possible from August 27. There is no deadline for this registration. You can register or deregister at any time during the semester on your own accord.
Seminars:
The registration for the undergraduate seminars in economics offered in fall 2018 is possible for exchange students between 27 and 30 August 2018. The seminar places are allocated randomly. You will receive more detailed information on the registration procedure by e-mail in time.

Exam registration
Important: A separate registration for all exams (incl. seminars) is necessary. This registration takes place a few weeks after the beginning of the courses. You will receive more detailed information on this procedure by e-mail in time.
Typical Class Formats:
LECTURES: These classes are normally taught by professors. On the one hand, they provide students with fundamental knowledge of a subject and, on the other hand, they  explain complex theories, concepts, and long-term developments. The material taught in lectures is usually developed in the advanced stages of the program.
SEMINARS: This type of class features discussions and oral presentations to encourage student participation, and usually requires students to write a term paper. The purpose of the oral presentations is to give students the opportunity to gain experience in presenting general or specialized academic topics. They usually last for between ten and forty minutes.
EXERCISE COURSES: These courses are usually led by academic staff members. They are used to review the information conveyed in lectures, and relevant subject literature. They give students the chance to apply their systematic knowledge and skills in a theoretical and practice-oriented manner. Often, the material from lectures is developed during these courses.
TUTORIALS. Tutorials are small working groups that are led by older students (tutors). The main purpose of this type of class is to consolidate the information learned in lectures and exercise courses. New material usually isn't taught here.
ECTS credits are awarded following the successful completion of an examination. Students receive grades ranging from 1.0 to 5.0, where 1.0 is the best (equivalent to grade A) and 5.0 the worst (equivalent to grade F).
Courses Taught at Other Schools
The university course catalog contains details of all modules available at the University of Mannheim.
You can find information on courses taught in English at the other schools on the International Office's website.