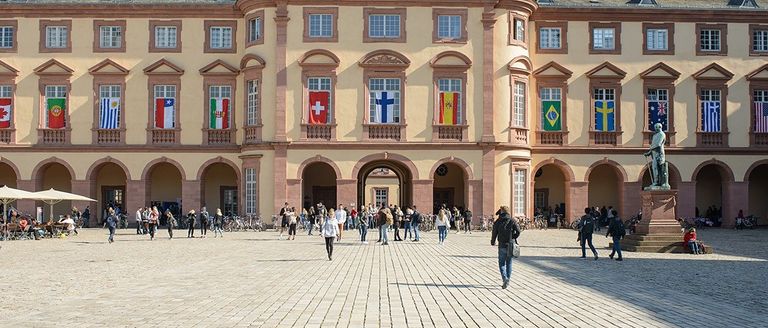 Information for Incoming Exchange Students
Exchange students coming to the University of Mannheim to complete a semester or year abroad are supported by the International Office and the exchange coordinator at the respective school. While the International Office handles administrative issues (such as admission, visa issues and registration) as well as accommodation and German language courses, the exchange coordinator can support you in the more academic aspects of your exchange, in particular your course choice and learning agreement.
The exchange coordinator for the master's program in Economics is Mr. Sebastian Herdtweck. Please find his contact information in the Mobility and Exchange section.
Application and Admission
If you are a student at one of our partner universities and would like to spend a semester or year studying in Mannheim, you need to apply for an exchange at your home university. Please contact the International Office at your home university for information on application criteria and deadlines.
The course catalog is published online at the end of May for the following fall semester, and at the end of November for the following spring semester. If you would like to get an idea of the courses we offer, you can view our course catalog for the current semester and the previous semesters. The courses change from year to year but you can still get a general idea of our program.
Types of courses in the master's program in Economics
Lectures: These classes are usually led by professors and provide students with background information about a subject in order to explain long-term developments and complex ideas or theories. They usually provide a basic framework for further study.
Exercise Courses: During these courses, which are led by professors or teaching assistants, the material from lectures or other relevant literature is discussed, and systematic knowledge and skills are developed both theoretically and practically. Often the material from the lectures is expanded upon and reviewed in depth.
Seminars: Students are encouraged to actively participate in seminars by getting involved in discussions and giving oral presentations, which normally last between ten and 40 minutes and provide students with an opportunity to gain experience in presenting a general or more specialized academic topic. Usually, students have to write an essay and present the results in the seminar. Instead of being held on a weekly basis during the semester, seminars can also be taught as a block course lasting one or two whole days.
As an exchange student in the master's program at the Department of Economics, you can choose your courses freely from the elective modules available at the department, as long as you fulfill the prerequisites for each course.
If you are an exchange student in a master's program at another department at the University of Mannheim and would like to take courses from the master's program in Economics, please contact the exchange coordinator for the Economics program (contact details above) to check your eligibility.
General regulations:
Courses for the master's program in Economics are restricted to master's students. Students of a bachelor's program have to take courses at bachelor's level.
The core modules (E700-E703) are not open to exchange students.
To discuss your course choice, please contact the exchange coordinator (see above). Please also submit your Learning Agreement, which is required for all Erasmus exchanges, to the exchange coordinator before the semester begins.